Today any shareholder may put a proposal up for vote, provided they meet the SEC's amended ownership thresholds, which applies to any proposal submitted for an annual or special meeting to be held on or after January 1, 2022. The table below illustrates these thresholds.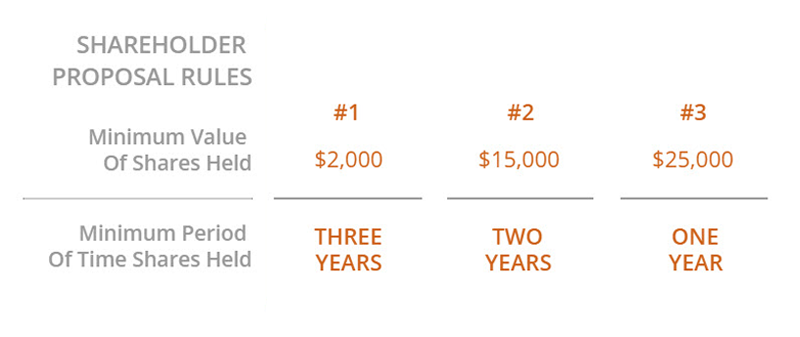 Shareholder proposals are usually advanced by issue advocates. Therefore, it's critical to carefully consider management recommendations and strategic corporate objectives. Ultimately, these are often complex issues that involve weighing many competing interests.
Here is an overview of common shareholder proposal topics and issues on which you may be asked to vote this coming year.
Climate impact disclosure - Some shareholder proposals are asking corporations to track, document, and disclose environmental impact metrics like CO2 emissions, energy consumption, deforestation, clean technology use, water waste, and more.
Government lobbying - In some cases, shareholders are seeking to promote the disclosure of—or even put restriction on—corporate lobbying efforts. In one recent case, the majority of shareholders at Chevron voted to require climate and environmental lobbying activities to align with the Paris Agreement.
Political contribution disclosure - Related to government lobbying, other proposals are seeking to promote greater transparency around political contributions. Shareholders are asking corporations to explain where dollars are going, how much, when and why.
ESG disclosure - Consistent with a broader push from institutional shareholders like Blackrock and State Street, more proposals are asking companies to increase transparency around Environmental, Social and Governance (ESG) matters. In recent years, several ESG disclosure frameworks have gained prominence and shareholders are asking companies to use them.
Gender/racial pay equity disclosure - With greater focus on human capital management, we're seeing more shareholder proposals push for greater transparency around gender and racial pay gaps. The idea is that pay equity disclosure puts greater public pressure on companies to ultimately remedy pay gaps.
Independent chair - At some companies, the CEO is also the Chairman of the Board. Some believe this approach does not reflect best practices when it comes to corporate governance because it gives the CEO outsized influence. So, shareholders advance proposals to appoint an independent board chair. This happened recently at Boeing, for example, when shareholders approved a proposal to split the CEO and chair roles.
Adoption of employee arbitration policies - Many corporations include mandatory arbitration clauses in the employment contract. Activists believe these policies lead to significant underreporting of harassment or discrimination, enabling companies to avoid responsibility (because they can't get sued). Accordingly, some shareholders are seeking to enhance transparency around these the policies and even curtail them altogether.
Executive compensation - "Say-on-Pay" proposals enable shareholders to vote on and approve executive renumeration. These proposals were required by law as part of the 2009 Dodd-Frank legislation.
Anti-discrimination - As social consciousness around racial justice continues to gather momentum, more shareholder proposals are seeking to increase disclosure around workforce diversity and anti-discrimination policies.
Written consent - Traditionally, if shareholders want to raise an issue with the board or advance a shareholder proposal, they're required to wait for the annual shareholder meeting or call a special meeting. However, more proposals are now asking companies to allow shareholders to "act by written consent." That is, if the majority of shareholders could advance a proposal, they need not wait for a meeting and can instead petition the board in writing as issues and concerns arise.
Own your vote
As an investor myself, I understand the responsibility that comes with share ownership. That sense of ownership is powerful. It's what drives me to empower shareholders to exercise their shareholder rights. Be sure to explore everything shareholdereducation.com has to offer. You'll find so many ways to share your voice and influence the future of the companies you invest in.